A big variety of different rituals are kept and passed through generations, involving the New Year's Eve celebrations in Greece.
Smashing Pomegranates for prosperity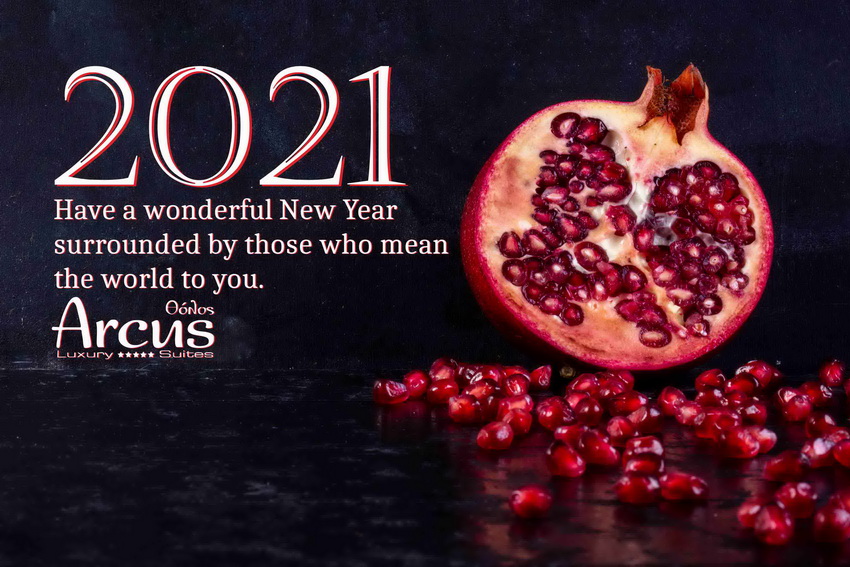 On the night of New Year's Eve, they hang a nice pomegranate over the front door. Minutes before the clock shows 00:00, the whole family exits the house. After the year change, one family member (usually a child) enters the house again, stepping carefully inside with the right foot. The specific family member has a special name that would follow him or her for the rest of year "First Footer" and he would be in charge of bringing good luck for each and every one on the house.
At the moment that the "First Footer" enters the house, one other from the family, grabs with the right hand the pomegranate and smashes it against the house door. The cause is to break pomegranate to many seeds and spread it in the room. According to tradition as more seeds fall over the floor, the more prosperity, good health and good fortune will be brought to the family of the house.
Vassilopita almond Cake for Saint Basil (the Greek version of Saint Nicolas)
At the New Year's Eve celebration family dinner, "Vassilopita" is the special desert of the day. It is a an almond cake witch a baked coin inside, sliced up and served. The cutting of the cake is a small ceremony as the 1st  cut goes to the new born Jesus, the 2nd to Agios Basil, the 3d to the house and the next slices to the family member from older to younger order. Even the members of the family that are not present are having their own slice of this special cake. The lucky member, that has the coin in his/her slice, is the one that would have good fortune for the new year.
For more Greek New Year's Eve traditions click the link below: