On Wednesday European Commission proposed to create a "Digital Green Certificate" to facilitate safe, unencumbered travel inside the EU during the COVID-19 pandemic, meant to save this summer.
The idea of a "Certificate" was  proposed by Greece, with the support of the  Mediterranean nations,  in order to unlock travel for the summer holidays on 2021.
A proof that a person has been either:
– vaccinated against COVID-19
– received a negative test result (RT-PCR)
or recovered from COVID-19 would be the "Digital Green Certificate".
"With the Digital Green Certificate, we are taking a European approach to ensure EU citizens and their family members can travel safely and with minimum restrictions this summer," Commissioner for Justice, Didier Reynders, said.
Digital Green Certificate will include a QR code to ensure security and authenticity of the certificate and it will be available – free of charge – in digital or paper format. The Commission will build a gateway to ensure all certificates can be verified across the EU, and support Member States in the technical implementation of certificates.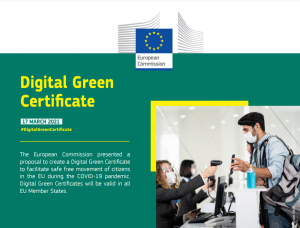 Non-discrimination
Commissioner Reynders highlighted that the Digital Green Certificate will not be a pre-condition to free movement and will not discriminate in any way.
Moreover, according to the Commission:
– All people – vaccinated and non-vaccinated – should benefit from a Digital Green Certificate when travelling in the EU. To prevent discrimination against individuals who are not vaccinated, the Commission proposes to create not only an interoperable vaccination certificate, but also COVID-19 test certificates and certificates for persons who have recovered from COVID-19.
– Same right for travellers with the Digital Green Certificate – where Member States accept proof of vaccination to waive certain public health restrictions such as testing or quarantine, they would be required to accept, under the same conditions, vaccination certificates issued under the Digital Green Certificate system. This obligation would be limited to vaccines that have received EU-wide marketing authorisation, but Member States can decide to accept other vaccines in addition.
– Notification of other measures – if a Member State continues to require holders of a Digital Green Certificate to quarantine or test, it must notify the Commission and all other Member States and explain the reasons for such measures.
To be ready before the summer, the Commission's proposal for the Digital Green Certificate needs a swift adoption by the European Parliament and the Council.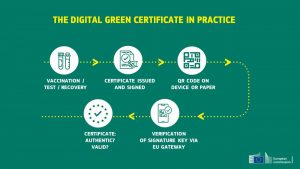 Green Certificate to support free movement
EU Vice-President for Values and Transparency Vera Jourova said "The Digital Green Certificate offers an EU-wide solution to ensure that EU citizens benefit from a harmonized digital tool to support free movement in the EU".
"This is a good message in support of recovery. Our key objectives are to offer an easy to use, non-discriminatory and secure tool that fully respects data protection. And we continue working towards international convergence with other partners."
Written with information from:
GTP Headlines
GreekReporter
Fro more information about Digital Green Certificate:
European Union official web site
Euractiv